In the Garden there are Good Bugs too!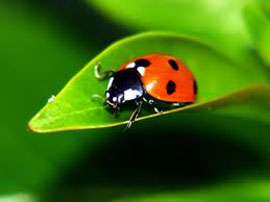 Here at The Tasteful Garden we promote natural pest control methods such as keeping your garden clean and weeded, using mulches and good compost in the soil, and using organically made pesticides only when absolutely necessary. We believe that healthy, happy, plants will have a naturally immunity to pests and diseases and in the long run can protect our environment from overuse of pesticides.
In many cases, when you see damage to the leaves of a vegetable plant, the plant is not in danger of dying, it is only being nibbled on by an occasional insect. Other times, your plants can be literally eaten away overnight by some hungry snails, cut off at the base by a cutworm, or dug out of the ground by a squirrel. This can be heartbreaking when it happens but keep in mind that we share the earth with these creatures and your garden looks like a really great place to hang out! Most of the time, simple methods which have been used for many years by gardeners are the best way to combat the situation.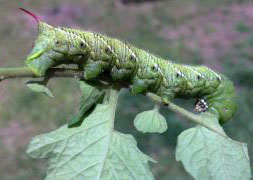 On our Insect Information page we have listed some of the more common pests for gardeners and the easiest technique to get rid of one or two, as well as a more thorough way to eliminate a full-on assault by these creatures.
If you do use any type of commercially bought pesticides, always make sure to read the directions carefully and never use more than is recommended. Even organic pesticides can be dangerous and can kill honeybees and birds if overused. Killing every insect in your garden is not a good idea because you may eliminate some of the many beneficial insects which eat other bugs and this can create a worse problem. There are also many living creatures in the soil which help to break it down and provide nutritious soil for your plants which can be killed by pesticides such as earthworms and bacteria.